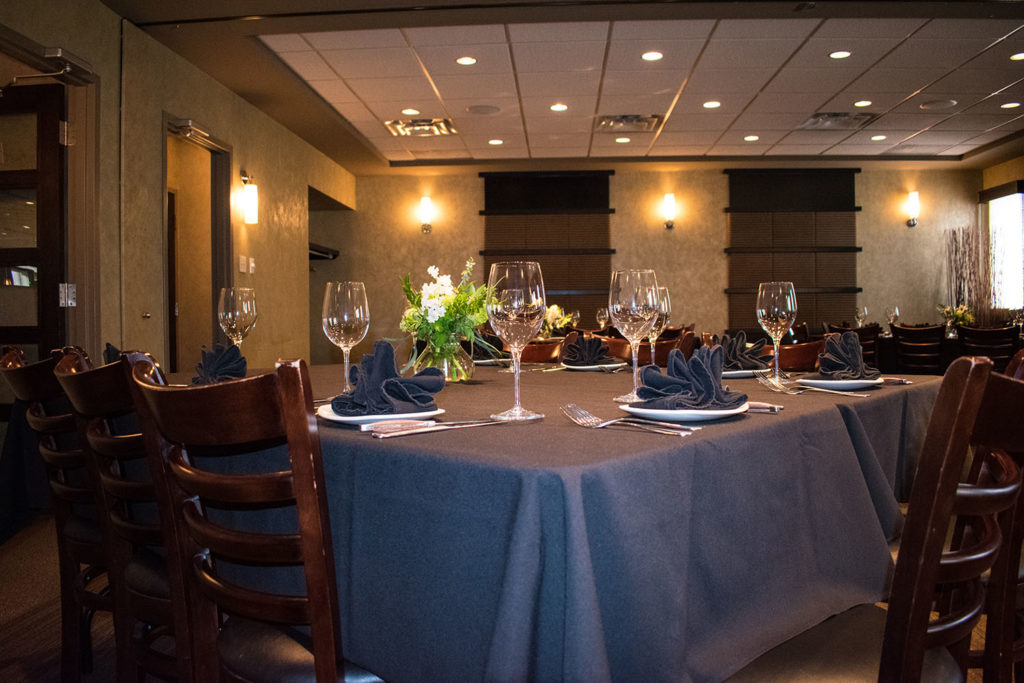 PRIVATE DINING BANQUET ROOM
Our house is your house
Book the private banquet room at Mano's for your special event.
Mano's Private Dining Room has a maximum capacity of 48 guests. It has an accordion wall that can be pulled across the middle of the room to divide it into two sides with 24 guests per side. For groups of eight guests or more, the restaurant will add an 18% service charge before tax.
Although Mano's does not require a minimum spend per guest, we do assume that guests will be ordering meals. Please let us know if that is not the case.
Private Dining, Large Groups
Group size: 13 – 24 people – we require a $100 deposit
Group size: 25 – 48 people – we require a $200 deposit
The deposit is refunded if 75% of the guests arrive.
The reservation cannot be made without a deposit, and the guest count cannot be changed later than 10 days before the event.
Private Dining, Small Groups
For groups of 12 guests or less, we have accommodations on our main dining floor. If you prefer to be in our private room, please note that we charge a $100 fee plus meals and beverages for half the room (1-12 guests) and a $250 fee plus meals and beverages to have the entire room (1-24 guests) to yourselves. The fee is non-refundable and is considered a booking fee/room rental.
Cancellations
If you wish to cancel your booking, Mano's requires 14 days' notice. We will issue a refund of your deposit no less than 14 days before your event (not applicable in November or December).
Additional Information
We have a wall mounted TV available for use free of charge.
We have a projector ($100 fee) and fold down screen available ($50 fee).
If you would like to bring in a dessert you are more than welcome to, however we charge $1.99/person for desserts brought in from elsewhere. If you would like to hear about our beautiful in-house-made desserts, please don't hesitate to ask!
We would love to create a set menu for your party to simplify the service and speed up preparation and service time
Booking Our Patios for Large Gatherings
We have had a few requests for larger reservations on our patios. If you would like to reserve a party larger than 6 guests on our patio, please send us an email at info@manos.ca
Schedule a banquet booking
Please fill out this form and tell us about your banquet request. We will get in touch with you via phone or email to confirm your details.